Ferrell Fuel Co. offers various payment options to its customers. We accept check, cash, and credit cards as form of payment.  Payments can be made on-line and over the phone by both credit card and check. We also offer automatic E-Check and credit card payment. This method is extremely flexible and takes the headache of paying bills out of the equation.
---
Budget Payment Plan
Why pay for 80 percent of your fuel in just four months?
Why not spread out your payments so your winter bills are easier to handle…..
Ferrell Fuel Co. offers its customers the option of spreading out annual heating fuel costs throughout the year. Based on your fuel usage factor, we will calculate your 12 month equal payment plan. All of our Budget Plans start on July 1st. For your convenience, we can also include your service plan(s) in your budget. Any work not covered by the service plan will be billed separately as a non-budget item.
Budget Plans begin in July, to sign up please contact us at 410-272-4650 or 800-924-9478 and we will be able to calculate the monthly payment and answer any questions.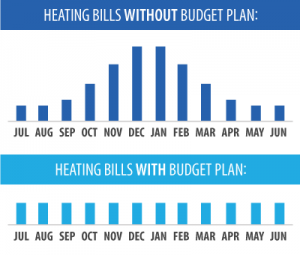 Direct Payment Plan
Ferrell Fuel Co. is pleased to offer you a new service—the Direct Payment Plan. Now you can have your payment deducted automatically from your checking or savings account. And, you won't have to change your present banking relationship to take advantage of this service.
The Direct Payment Plan will help you in several ways:
It saves time — fewer checks to write.
No lost or misplaced statements, your payment is always on time—it helps maintain good credit.
It saves postage.
It's easy to sign up for, easy to cancel.
No late charges.
Authorization for Direct Payment
Here's how the Direct Payment Plan works:
You authorize payments to be made from your checking or savings account. Then, just sit back and relax. Your payments will be made automatically on the specified day or day of delivery. And proof of payment will appear on your statement. The authority you give to charge your account will remain in effect until you notify us to terminate the authorization. If the amount of your payment changes, we will notify you at least 10 days before payment date. The Direct Payment Plan is dependable, flexible, convenient and easy. To take advantage of this service, complete the authorization form and return it to us.